ATAN curve for probabilities
In many home automation scenarios we have an observed value, maybe a sensor reading, maybe a time interval since something happened. We want to convert that value to a probability, e.g. what's the probability that someone left the room given how long it's been since any activity there.
Typically we might start using conditions:
    time < 5 ? 0.2 :
     time < 10 : 0.5 :
     0.7

And we might throw in an abs function somewhere to deal with negative values. This piece-wise approximation is a a good way to start and it's easy to think about but there is a better way.
What we want is a function that maps any input value to the range 0.0 - 1.0. We want it to be smooth. We want to be able to adjust how quickly it rises (or falls) and how much of a 'dead zone' there is around zero. For example, for 2 minutes we want to assume nobody has left a room, after two minutes we want the probability to rise slowly and by five minutes we want it to rise quickly as we are fairly sure they have now departed.
The ATAN function
The ATAN function is an ideal function to achieve this. If we only have positive values we can use p = atan(x/k)/pi*2 and for any positive x we will get a value from 0.0 to 1.0. We can adjust how quickly it rises by adjusting k. And if we want a falling probability we can just do (1 - p).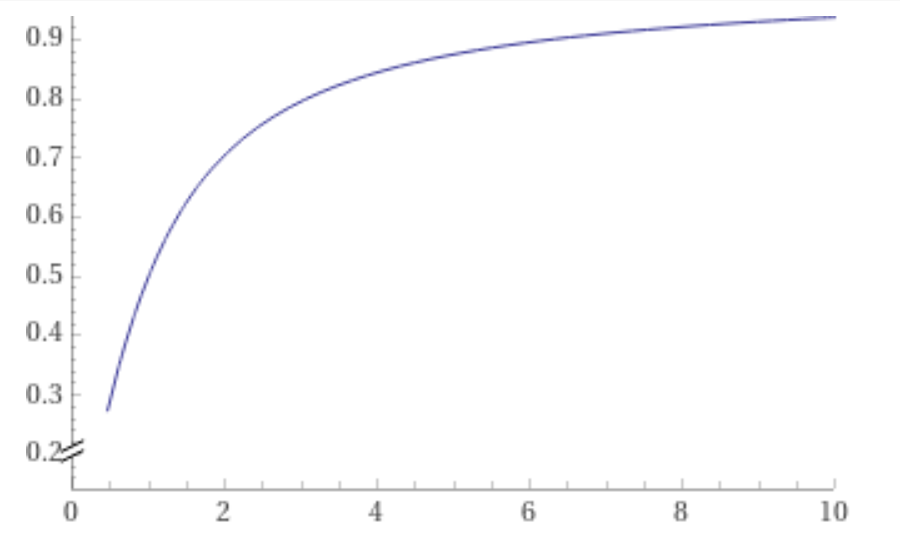 If we want a 'dead zone' at the start we can just offset the graph and divide by pi without a multiplier, but we need to add back the new zero point to get the start point back to zero. e.g.
    float p_gone_away = 
      -atan(-5) / PI + 
      atan(t/90 - 5) / PI;

This produces the nice curve shown at the top and works well for converting positive values to probabilities.
Adding Probabilities
One other probability trick you should know for home automation is how to combine two probabilities (a, b) in an either-or situation. Adding them would result in a value greater than 1.0 because there's also the chance that both a and b are true, and we'd be double counting. But if we subtract (a * b) which is the probability that both are true we fix that problem:
    float combined = a + b - a * b;

This ensures that the combined probability never goes above 1.0. It comes from the inclusion–exclusion principle which holds when the events are independent.
P(A∪B)=P(A)+P(B)−P(A∩B)
Logistic Function
See also the logistic function as another way to map values to probabilities.